Yesterday, Freddie Mac released the results of its Primary Mortgage Market Survey (PMMS), which indicated a drop in average fixed rates, as Frank Nothaft, vice president and chief economist at Freddie Mac puts it, "amid signs of a weakening economic recovery."  This also marks the first full week of the Qualified Mortgage Rule being in effect.
In supporting his assessment of a weakening recovery, Nothaft added that, "the economy added 74,000 jobs in December, less than the market consensus forecast.  Retail sales rose 0.2 percent in December, which was nearly half of November's 0.4 percent increase.  Meanwhile, the unemployment rate fell to 6.7 percent which was the lowest since October 2008."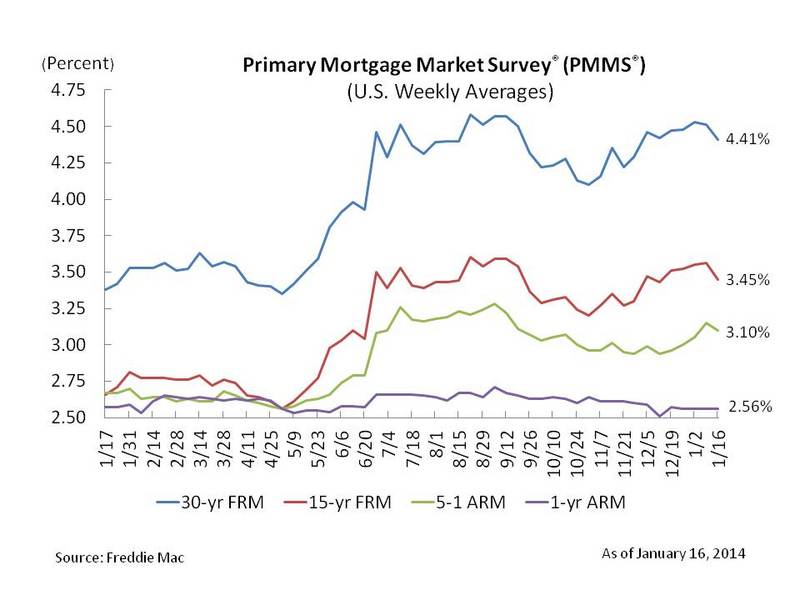 30-year fixed rate mortgage rates (FRM) averaged 4.41 percent, also witnessing an average 0.7 point for this week.  This represents a decrease from last week's average rate of 4.51 percent, yet a year over year increase from 3.38 percent.
15-year FRM's this week averaged 3.45 percent, with an average of 0.7 points.  Again, this represents a drop from last week's average rate of 3.56 percent.  This time last year, the 15-year FRM had an average rate of 2.66 percent.
5-year Treasury-indexed Adjustable rate mortgages (ARM) witnessed an average rate of 3.10 percent with an average 0.5 point.  The rates this week are down from the previous week's average rate of 3.15 percent, yet up from this time last year, when rates averaged 2.67 percent.
1-year Treasury-indexed ARM's averaged 2.56 percent this week, and witnessed an average of 0.5 point.  This remains unchanged from last week, and represents a slight decrease from this time last year.
For more information, contact us: