Today, Freddie Mac released the results of its Primary Mortgage Market Survey (PMMS).  The results indicate that average fixed-rate mortgages (FRM) are still increasing slightly as the new year begins.
According to Freddie Mac's PMMS, 30-year FRM averaged 4.53%, with an average 0.8 point for the week ending today.  This is up from 4.48% last week and 3.34% from this time last year.  15-year FRM average 3.55% this week with an average 0.7 point, up from 3.52% last week and 2.64% in January of last year.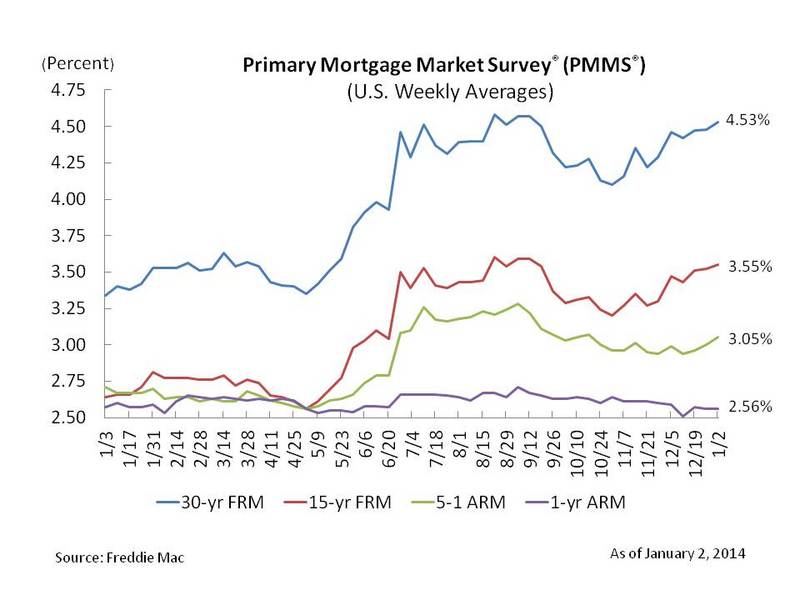 Adjustable-rate mortgages (ARM) also saw an increase in rates in this latest PMMS.  5-year Treasury-indexed hybrid ARM averaged 3.05% this week with an average 0.4 point.  This is an increase from the average 3.00% last week and 2.71 from a year ago.
1-year Treasury-indexed ARM averaged 2.56% this week with an average 0.5 point, which is unlike the mortgage options, is unchanged from last week.  From this time last year, the rate for this loan option averaged 2.57%.
According to Frank Nothaft, vice president and chief economist for Freddie Mac, commented on the higher mortgage rates as being a sign that the economy is recovering, "The pedning home sales index inched up 0.2% in November, after five consecutive months of decline.  The Conference Board reported that confidence among consumers rose in December and the S&P/Case-Shiller® 20 city composite house price index rose 13.6% over the 12 months ending in October 2013.
For more information, contact us:
info@afterforeclosure.com